They say there's no business like show business, and they're probably right. There's nothing quite like this glamorous, drama-filled industry that makes people want to constantly get the inside scoop. And in Tinseltown, what can be more exciting than award season? It's that time of year when celebrities get together to celebrate their talent, while strutting on the red carpet in lavish outfits and creating some memorable moments.
And as far as memorable moments go, there are plenty of them. In fact, there are so many of them, it's hard to choose. Some of them were hilarious, some of them were sad – but some of them fit a whole other category. It's those kind of moments that made us cringe as they happened. The kind of moments that made us want to look away from our screens, but not be able to tear our eyes away from it. These are the most embarrassing and awkward moments that happened during award shows – ones that made those famous celebrities seem a little less perfect, and a little more human.
And the Oscar goes… to the wrong movie
The Academy Awards have always been the most prestigious of awards, and winning the Oscar for Best Picture is probably every filmmakers dream. But apparently, even the biggest award show in the world can't go flawlessly. In 2017, when acting legends Faye Dunaway and Warren Beatty presented the award for Best Picture, they received the wrong envelope and declared the winner to be La La Land.
It was only after the entire cast and crew went onstage and were giving their speeches, when the mistake was corrected. As La La Land producer Jordan Horowitz was whispered what happened, he said, "'Moonlight,' you guys won." Needless to say, the entire crowd – as well as the viewers at home – were stunned.
Kristen Stewart breaks an award
Let's face it, Kristen Stewart isn't exactly known for being the most graceful person. She's a talented actress, but when it comes to awkwardness, she resembles her iconic character, Bella in Twilight, more than she's probably like to admit. During the 2009 MTV Movie Awards, the actress actually dropped her Golden Popcorn award and managed to break it.
She commented by saying, "I was just about as awkward as you thought I was going to be. Bye!" Yeah, that pretty much sums it up.
John Travolta says 'Adele Dazeem'
People everywhere were straight up baffled when John Travolta performed this award show faux-pas. At the 2014 Oscars, he was supposed to announce Idina Menzel before she took the stage, and clearly he has not practiced the moment.
Granted, it isn't such a hard name to pronounce, but the actor ended up calling for an "Adele Dazeem" to take the stage. The two laughed it off together later, but we were pretty embarrassed for Travolta there.
Katy Perry takes a dive
Oh, Katy Perry. We love the pop singer for being as bubbly and colorful as she is, and she gets extra points for originality. When she performed at the 2008 MTV Latin America Awards, she was at the very beginning of her career, and she sang "I Kissed A Girl."
At the end, she leaped on a giant cake and was left covered with frosting. But as it turned out, that frosting was pretty slippery, which made her fall down not one, but several times!
Giuliana Rancic gets candid with Bradley Cooper
Many people who tuned in to watch the Oscars this week, noticed there was a particularly cringe-worthy moment during Giuliana Rancic's interview with Bradley Cooper. She was telling him how much the movie had made her fall even more in love with her husband, and asked him how he felt about putting something like that out there.
He replied that they were all working as hard as they could, and said, "Other than that I don't know." The internet flipped out, naturally, about the fact that she pretty much poured her heart out in front of him and he reacted so dryly.
Sofia Vergara is on a pedestal
We all know that Sofia Vergara is one of the most attractive women on the planet – it's not exactly a secret. She's got it all, and is pretty famous for her beautiful curves. But at the 2014 Emmys, chairman of the Academy of Television Arts & Sciences Bruce Rosenblum decided to put the actress on an actual pedestal.
It was rotated 360 degrees so everyone could get a look at this marvelous woman in all her glory. This seemed like taking things way too far, and was deemed as slightly creepy by the viewers – but you'll be the judge of that.
John Travolta gets creepy
During the 2015 Academy Awards red carpet, Scarlett Johansson was posing for pictures when she suddenly found herself in the arms of one John Travolta. That's right, his "Adele Dazeem" moment isn't the only awkward one for him when it comes to award shows.
When he noticed the Avengers actress posing for the cameras, he somehow felt it was a good moment to wrap an arm around her and kiss her on the cheek. The serious side-eye Scarlett is making pretty much says it all.
Rashida Jones is complimented on her 'tan'
One of the most cringe-worthy moments of award season (and also of anything ever) was this interview Rashida Jones did on the red carpet of the 2015 SAG Awards. The interviewer decided to compliment her on her 'tan', which is actually just the natural color of her skin – because she's partly African American.
The confused actress (and daughter of Quincy Jones) replied by saying, "Well, you know… I'm ethnic," which served to put the interviewer right in her place for the strange remark.
Anne Hathaway and James Franco host the Oscars
Honestly, we wouldn't even know where to start with this one, and we might just call the whole show one big travesty. Anne Hathaway and James Franco hosting the 2011 Oscars was just the way it sounds like.
Hathaway admitted she initially tried to turn down the gig, but eventually came around. "Your first instinct is usually the right one," she said. Many people felt the show was completely awkward, as James Franco looked detached and even sleepy, which completely threw off their dynamics and made jokes embarrassing instead of funny.
Brendan Fraser isn't quite sure how to clap
Don't get us wrong, we've loved Brendan Fraser ever since we first laid eyes on him in The Mummy. The actor has been going in and out of the spotlight for years now, but in 2010 he was making headlines for a pretty strange reason.
It was a particular shot of the actor clapping his hands at the Golden Globes – or at least, trying to clap his hands? We're not sure what he was going for, but his bizarre clap resulted in endless hilarious memes.
Natalie Portman calls out the boys
Remember Oprah Winfrey's legendary speech from the 2018 Golden Globes? Well, it inspired many people to call out injustice, and Natalie Portman was particularly ready to do just that right after that speech.
When she and director Ron Howard took the stage to present the award for the best director category, Natalie decided to call out Hollywood's men club, saying, "And here are the all-male nominees." Ron's awkward laughter proved just how uncomfortable it was in the room following her statement.
Taylor jumps the gun
It's difficult to be nominated for an award, knowing that in the moment the winner is announced, you'd have a camera in your face recording your reaction. You have to be on your best behavior at all times, just like Joey learned in Friends. But we digress.
Taylor Swift had an embarrassing moment in 2014 when – in all the excitement – she accidentally thought her album "Red" had won for Album of the Year at the Grammys. Daft Punk actually had the winning album, and their album began with the letter "R" as well – hence the mix-up.
Nicki Minaj calls out Miley Cyrus
Nicki Minaj is known for being pretty outspoken. If she has something to say, she'll say it – even if that means throwing some shade at people. And when Miley Cyrus mentioned in an interview that Nicki isn't "too kind," she was taking none of it.
During the 2015 VMAs, the rapper was on the stage after winning for Best Hip-Hop Video – which was the perfect moment to bring it up, obviously. She asked, "Miley, what's good?" Honestly, we would be flipping out.
Madonna's tribute for… Aretha Franklin
People all over the world were devastated to hear about the passing of musical legend Aretha Franklin. Last year at the VMAs, Madonna paid tribute to the Queen of Soul. Only problem? She couldn't stop talking about Madonna. She talked about herself, and her personal journey to success, during the whole thing.
People weren't having any of it, and were commenting on the fact that the singer has made the speech all about herself. The twist? Madonna later said it wasn't meant to be a tribute to Aretha at all.
Nicole Kidman is clapping weird
If you thought Brendan Fraser's clapping was weird, how about Nicole Kidman's? Maybe she was trying to reinvent clapping. Maybe she was trying to be careful not to mess up her nails somehow. We don't know for sure.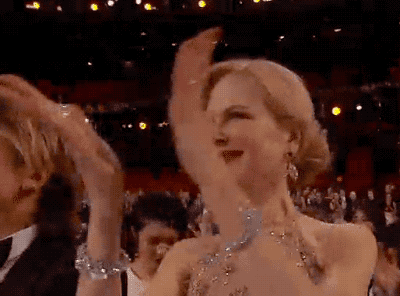 But what we do know is that this clapping moment became a huge meme overnight, and honestly? We can't blame the internet for it. That's a pretty strange way to clap your hands, let alone when you're being filmed.
Johnny Depp slurs on stage
At the 2014 Hollywood Film Awards, Johnny Depp was supposed to introduce a documentary called Supermensch. But when he took to the stage, many viewers noticed something was a little off. He seemed more than just a little tipsy – it seemed as though he had way too much to drink before taking the stage.
He actually began by slurring the words, "That's the weirdest microphone I've ever seen in my life." And just like that, he was everybody's uncle at Thanksgiving.
Leonardo DiCaprio makes a face at Lady Gaga
In 2016, Lady Gaga won a Golden Globe for her performance in American Horror Story, and as she made her way to the stage… well, this face happened. Leonardo DiCaprio's reaction towards the singer and actress was so inappropriate, it went viral right away.
There were comments everywhere saying he was flinching away like he didn't want any TV to rub off on him. The actor went ahead and denied the claims, saying he just didn't realize what was brushing past him, but the internet wasn't convinced.
Aubrey Plaza steals the show
We still can't get over this awkward moment from the 2013 MTV Movie Awards. Will Ferrell was accepting his much-deserved award for Comedic Genius, when Parks and Rec's Aubrey Plaza suddenly marched onto the stage. She actually tried to wrestle the award away from a very confused Will, who tried to make it look as though it was a rehearsed bit, but with no luck.
Reportedly, the actress' strange meltdown followed a night of drinking a bit too much – she even dropped her drink on the way back to her seat, before she was unceremoniously kicked out. It was hard to look away.
Ryan Seacrest's shameless promotion
Ryan Seacrest apparently has his own clothing line, and he definitely used every opportunity he had this year to wear it on award show red carpets. Nothing wrong with that, of course, but some viewers couldn't help but notice that he's also been promoting his suit line on live TV.
After the Oscars this year, there were quite a lot of tweets mentioning his shameless self plug, especially after he let everyone know his collection is on sale at Macy's. We guess he's been in the entertainment business for so long, he can pretty much get away with everything.
Rami Malek falls off stage
Another moment that was hard to miss during this year's Academy Awards, came right after Rami Malek had won his Oscar for Best Actor for his role as the legendary Freddy Mercury. The actor was trying to get off stage to reunite with his co-star and girlfriend Lucy Boyton.
Then he suddenly took a tumble off stage. Paramedics immediately came to see everything was okay, but thankfully there was no harm done for the embarrassed Bohemian Rhapsody star.
Reese takes a jab at Kim?
Reese Witherspoon may be America's sweetheart, but apparently she doesn't hold back on criticism when she deems it necessary. When the actress won an MTV Movie Award in 2011, she took to the stage and delivered a message to young girls that you don't need your own reality TV show to succeed in the business.
She added that back in the day having an intimate tape would be something to be embarrassed about. This led people to believe she was hitting Kim Kardashian with some harsh criticism, and was totally cringe-worthy.
She beat Meryl
We all remember that moment in 2013, when Jennifer Lawrence won her very first Golden Globe, thanks to her unforgettable speech. Jen was given her Globe and started by saying "I beat Meryl!" and of course – got some pretty bad backlash from people who thought she hated the esteemed actress.
Putting aside that she really did beat Meryl Streep, and that she just seemed really excited, she was actually making a reference to the iconic film First Wives Club – one that most people just didn't get. To this Jen responded during an interview, that it's never a good thing for her to improvise.
Cardi B and Offset's extreme couple moments
Cardi B's relationship with fellow rapper Offset has been a bumpy one since the very beginning. After a very public split, the two showed up at this year's Grammy Awards together, setting all reconciliation rumors to rest.
Not only did they pack on the PDA on the red carpet, but Offset actually got on stage together with Cardi when she won Best Rap Album. Her fans couldn't get over how this decision to get on stage with her was in poor taste.
Madonna's awkward tumble
Yes, Madonna really is on this list for the second time. During the 2015 Brit Awards, this leading lady found herself taking a bit of a tumble, and it proved the point that not all heroes wear capes. While in the midst of a cape-ridden performance, Madonna's backing dancer was supposed to pull off the caped addition to allow the singer to roam free.
The only problem was that the cape wasn't ripped off in time, and Madonna soon fell backward down a rather steep set of stairs. It was terrifying and awkward, to say the least.
Chrissy Teigen's crying face
Chrissy Teigen is a gift to the world, but more than anything, she's a gift to the internet. During the 2015 Golden Globes, she provided us with a meme that would entertain us for years. In fact, we still think it's one of our favorite memes of all time.
As her husband performed on stage, Chrissy just couldn't keep her tears to herself. She was a wreck, but the camera seemed to pan to her at the right time. Instead of looking upset, she looked like she had a bad smell under her nose…
Joe Jonas was a cut above the rest
Although they have since made their epic comeback, the Jonas Brothers were the talk of the town in 2007. Girls were screaming their name, guys wanted to be them, and everyone wanted to date them. However, things got a little awkward at the 2007 American Music Awards.
As Joe Jonas made his way onstage and to one of the three panels of glass in front of him, the glass shattered, and the singer fell at the same time. As you can imagine, the end result was pretty messy. There was a whole load of red stuff everywhere.
Tommy Wiseau doesn't get to talk
James Franco won the award for Best Actor last year at the Golden Globes, for his role in the self-directed The Disaster Artist. In case you didn't know, the movie tells the story of Tommy Wiseau, who created a movie called The Room – which is considered to be one of the worst movies of all time by critics. So bad, it gained a cult-like following and earned him fame.
When Franco waved Wiseau on stage during his speech, everyone thought he was letting him have his moment in the spotlight, but when Tommy tried to speak to the microphone, Franco took it away, not allowing him to speak. People were actively shrinking away in their seats.
Neil Patrick Harris had an intruder
What most of us don't see is that every award show has backstage workers that pull everything together. While they are rarely seen, they can sometimes be spotted in the background. This was the case during the 2013 Emmy Awards when an offstage intruder found himself directly behind Neil Patrick Harris.
With the camera on him, he knew that he had to do something. So, he decided to inch away as slowly as possible, and it was pretty awkward. Of course, it was also pretty hilarious at the same time.
Faith Hill wasn't too impressed
If you're a lover of country music, you'll know that the Country Music Awards are kind of a big deal. Country singers also know that this is the case, which is why Faith Hill wasn't too impressed when she was pipped to an award by Carrie Underwood.
Instead of being chill and perfecting her loser face, Faith Hill was caught on camera getting pretty irate. In fact, she threw her hands up in the air and then mouthed "WHAT?!" in a confused scream. She later confessed that her reaction was taken out of context, but the damage was done.
Bradley Cooper and Lady Gaga light up the stage (a little too much)
If you haven't seen A Star Is Born, you probably should. One of the things that make this movie so great is the unbelievable chemistry between its two leads – Bradley Cooper (who also directed) and singer Lady Gaga. These two gave people all the feels, and the internet reacted accordingly, saying they must be in love – and that this is probably the reason behind Gaga's breakup with fiancé Christian Carino.
wow #Oscars pic.twitter.com/23IGS7SjKO

— MTV NEWS (@MTVNEWS) February 25, 2019
Their performance at the Oscars didn't help, as it was so incredibly intimate, it almost felt wrong to watch. Many people commented the way they were looking at each other was more than inappropriate, especially with Bradley's longtime girlfriend Irina Shayk sitting in the audience. While Bradley kept claiming that Irina was okay with it all, many believe otherwise – and perhaps their June 2019 breakup points that his "acting" with Gaga caused some trouble in paradise.
Kanye snags the stage from Taylor Swift
Taylor Swift has been around for quite some time, starting her way as a country singer and making her way into the pop scene. One of the most famous (or perhaps infamous?) things about the singer is her tendency to lace real-life drama and disputes into her songwriting. As consequence of that, the world has become very aware of her ongoing dispute with rapper Kanye West – but it all started during an award show.
At the 2009 MTV Video Music Awards Taylor snagged the award for Best Female Video for the song "You Belong With Me" and barely had time to accept her award before Kanye burst onto the stage, took the mic, and rambled on how Beyoncé should've won for her video. "I was standing onstage, and I was really excited," Taylor later said. "…I wasn't excited anymore after that."
Dakota Johnson's weird red carpet moment with her mom
Many people know Dakota Johnson as the lead actress in 50 Shades of Grey, but she's also daughter to iconic actress Melanie Griffith. This mother-daughter duo might be famous, but that doesn't mean they don't occasionally engage in some family drama just like the rest of us. During a red carpet interview at the 2015 Academy Awards, the two experienced an especially uncomfortable moment when Griffith was asked whether she's seen 50 Shades – as it famously has some pretty racy scenes.
The actress replied she hadn't seen it, and when the interviewer suggested she should, she refused. Dakota commented that "maybe someday" she will, but Griffith was pretty persistent on the matter. Dakota eventually snapped, telling her angrily, "Alright! You don't have to see it," which left people cringing pretty hard.
John Travolta almost gave Taylor Swift's award to an impersonator
You know when you see a friend and you run to say "hi," but then you realize that's not your friend and you want to bury your head under the pavement? This is kinda what happened to John Travolta.
During the 2019 MTV Video Music Awards, he was supposed to give Taylor Swift an award, but he almost gave it to the wrong person. The singer brought the cast of her "You Need To Calm Down" video on stage, including her impersonator Jade Jolie – also known as Josh Green, a performer famous for competing on a certain RuPaul show. He was dressed as Taylor, so Travolta naturally (?) got the two mixed up.
When Tiffany Haddish couldn't pronounce Camila Cabello
Sometimes it can be difficult to pronounce the names of people you've never met before. People come from many different cultures, so sometimes they have names you aren't familiar with. That's probably not the excuse that Tiffany Haddish can use at the VMAs in 2018 when introducing Camila Cabello.
The singer was up for five awards that night, and her name should have been familiar to Haddish, who was hosting. Instead, she got her words mixed up and stumbled, but Cabello seemed to take it pretty well.
Michael Jackson, artist of the millennium
At the VMA Awards in 2002, Michael Jackson misheard Britney Spears as she introduced him which caused confusion all over the world. Spears said for her Jackson had been the artist of the millennium, and MJ thought that was the award Britney was giving to him.
He began his acceptance speech for the 'Artist of the Millenium' even though that award didn't actually exist. It was actually meant to be a special birthday segment for the singer, but no one had the heart to stop him.
Lil Mama gatecrashes
Jay-Z and Alicia Keys' 'Empire State of Mind' track was one of the biggest tunes in the world in 2009. They performed together at the 2009 VMAs, the same ceremony where Kanye interrupted Taylor Swift on stage.
Kanye wasn't the only stage intruder at the ceremony, and Lil Mama decided to gatecrash Jay-Z and Keys' performance. As they posed for the end of the song, Lil Mama jumped up and joined them, uninvited. Jay-Z said she was "outta line" and Lil Mama admitted she got carried away in the moment.
Angelina Jolie kisses her brother
The red carpet is normally the moment where people's jaws hit the floor because of the extravagant dresses and outfits the stars wear. People couldn't stop looking at Angelina Jolie for a different reason at the 2000 Academy Awards.
Right on the red carpet, she and her brother planted a big kiss on each other's lips, and the world collectively became confused. Later that night she won an Oscar for Best Actress, before saying, "I'm in love with my brother right now" during her acceptance speech.
Katy Perry's wings cause damage
If you can't go bold with your outfit at the Met Gala, then when can you? Katy Perry ensured she captured everyone's attention at the 2018 Met Gala when she wore a giant set of wings to the party.
Instead of being the graceful angel she was trying to portray, Perry almost knocked one of her assistants out with the costume. Unaware of the wingspan, Perry walked around the red carpet and smacked her assistant in the face with one of the white wings, almost knocking her off her feet.
Dave Letterman makes Oprah – and the world – cringe
It had been seconds into the 1995 iteration of the Academy Awards, and the show had already gone off the rails. First-time host Dave Letterman started the telecast with a joke so bizarre and unfunny that it found its own place in pop culture.
Making fun of celebrities who have weird names – that's our best guess for the premise, anyway – he introduced Oprah Winfrey to Uma Thurman. He then introduced them both to Keanu Reeves. The audience laughed, but it was clear they were just being polite.
Rob Lowe joins Snow White for the strangest Oscar segment ever
Usually, award shows are pretty disposable affairs. You talk about the telecast the following day around the water cooler, and that's about it. Unless, of course, there's a train-wreck moment. Well, the 1989 Academy Awards supplied us with the biggest train-wreck moment in Oscars history.
For 11 excruciating minutes, a Snow White cosplayer baffled the live crowd in the show's opening before taking the stage for a duet with host Rob Lowe that went over about as well as flatulence in church. How bad was it? Disney actually sued the Oscars for including Snow White in the debacle.
Jon Hamm crawls onto the stage
We've had celebs accidentally falling onstage, so how about one that intentionally crawled on all fours? In 2015, Jon Hamm was taking a victory lap for his role as Don Draper on Mad Men. It was a role that garnered him seven Emmy nominations for Lead Actor in a Drama Series, but the prize had always eluded him.
Then, in 2015, he finally won. Ecstatic, Hamm decided to ascend to the stage rather uniquely – by crawling onto it from the floor as the crowd watched in amazement. Later, even Hamm himself said he was "mortified" at what he'd done.
Beyonce suffers a very awkward technical malfunction
In 2019, Beyonce Knowles-Carter is a musical goddess. In 2003, however, she was an up-and-comer that had a lot to prove as a solo artist away from Destiny's Child. If her 2003 performance of Baby Boy at the 2003 MTV Europe Music Awards was any indication, it would be a bumpy ride.
Taking the stage with rapper Sean Paul, Queen Bey went through the song, until technical difficulties caused the backing vocals to loop and play again… and again… and again. A confused, embarrassed Beyonce waved to the crowd and asked them how they were doing, before walking off-stage.
Naomi Watts trips over Emma Stone's dress
Even though it sometimes trips them up, seeing the outlandish fancy outfits celebs rock on awards show is part of the fun. In the 2015 SAG Awards, we were treated to yet another moment of a celeb nearly face-planting due to a wardrobe choice – but this time it was someone else's!
Emma Stone was wearing a tuxedo-inspired dress that had a long train. Taking the stage together with Naomi Watts when Birdman's cast won an award, Watts proceeded to catch her shoe on Stone's train, and nearly fell on her face. Luckily, she caught herself just before doing that, as a mortified Stone mouthed "Sorry!" repeatedly.
An uninvited guest interrupts David Niven
We may be going all the way back to 1974 for this one, but it's probably the most remembered moment in the Oscars' 91-year history. It started out innocently enough, with co-host actor David Niven preparing to welcome Elizabeth Taylor to the stage.
Before he was done, however, a man wearing his birthday suit appeared from behind him and ran across the stage. After some stunned laughter from the crowd, Niven – without missing a beat – quipped, "Isn't it fascinating to think that probably the only laugh that man will ever get in his life is by showing his shortcomings?"
Jennifer Lopez is almost knocked out
For reasons that were never adequately explained, Jennifer Lopez's 2009 American Music Awards performance of her hit song Louboutins featured a boxing motif, complete with announcer Michael Buffer opening the proceedings.
Why a song about designer shoes needed to have a gimmick is anyone's guess, but she sure rocked our socks off. Until her backup dancers formed a human stairwell, and Lopez ascended them one at a time by stepping on their back. She then jumped off… and fell squarely on her behind. She got up in about a second, but there a millisecond that we feared she might've been knocked out.
Adrien Brody blindsides Halle Berry
In 2003, Adrien Brody's career reached its absolute apex, as he won the Academy Award for Best Actor for Roman Polanski's The Pianist. He was only 29 years old, unseating Richard Dreyfuss as the youngest man to ever win that prestigious award.
Coming onto the stage for his acceptance speech, he grabbed presenter Halle Berry and pulled her in for an unrehearsed and very long kiss. Clearly pleased with himself, he turned around told her, "I bet they didn't tell you that was in the gift bag." An embarrassed Berry could do nothing but laugh.
Steve Harvey announces the wrong winner
When speaking about awards shows, beauty pageants probably aren't the first thing that springs to minds. In 2015, though, Steve Harvey took a break from his 35 shows to host the Miss Universe pageant, and changed that.
It was finally the big moment – the only thing left to do was announce the big winner, but naming the runners-up before that, saving the best for last. Harvey flubbed that task, and named the first runner-up as the winner. Miss Colombia had already received her tiara and sash when Harvey interrupted to say he messed up. Having the real winner – Miss Philippines – crowned almost didn't matter anymore.
Adele breaks her Best Album Grammy
Throughout her amazing career, crooner Adele has won 15 Grammy Awards, to go along with an Academy Award, a Golden Globe Award, 18 Billboard Music Awards, and the list goes on… Perhaps none of her wins were quite as memorable as accepting the Album of the Year Award in 2017.
Accepting? Not quite, as the singer went on about how much she loved Beyonce and her album, Lemonade, which she thought should've won. She then proceed to break her Grammy in half, offering the other half to Queen Bey! Luckily, that was just a "stunt trophy," a prop used on-stage during the ceremony, and not the real McCoy.
Leonardo DiCaprio fist bumps– high fives– no, wait…
What's worse than completely misreading your buddy's cue and going for a first bump when he intends to do a high five? Doing so on live TV while accepting a major award. Just ask Leonardo DiCaprio, who accepted the Golden Globe for Best Actor in a Motion Picture (Drama) for The Revenant.
While the movie would go on to net him his first Oscar statuette, this horror show clearly wasn't a winner. It lasted only seconds, but seemed to go on forever, as Leo's neighbor insisted to keep trying to get it right – and failed.
Jacqueline Bisset goes on and on and on
Let's be honest – award show speeches only come in three varieties – memorable for being so moving, forgettable for being so boring, and super memorable for being so awkward and embarrassing. When English actress Jacqueline Bisset won Best Actress in a Supporting Role at the 2014 Golden Globes, she entered that third category by kicking it in the face and throwing it out the window.
For what seemed like years, Bisset stood in complete silence for way too long before starting to ramble incoherently about forgiveness, or something. The band trying to play her out didn't make much of a dent, either, as she just kept talking.
Joaquin Phoenix's big moment
At the 2020 Golden Globe Awards, Joaquin Phoenix took home the award for Best Actor for his role in Joker. However, fans couldn't help but notice that during his big moment, while all of the other actors gave Phoenix a standing ovation, Beyonce just sat there and didn't stand up.
Things only became more awkward once the actor started giving his controversial and expletive-filled acceptance speech that ended with him getting played off by the infamous award show music.
Tom Hanks makes a meme-worthy face
Award shows have provided us with plenty of second-hand embarrassment over the years, but this one became a meme in practically seconds. Ricky Gervais hosted the 2020 Golden Globes, making an unforgettable opening monologue.
It was mostly unforgettable because he used the stage to make some pretty offensive jokes at the expense of various celebrities, and criticizing Hollywood's elite. This made everyone in the room super uncomfortable – and prompted Tom Hanks to make the face in the picture above.
Nick Jonas has spinach in his teeth
The Jonas Brothers gave quite the enthralling performance at the 2020 Grammys, but all fans could talk about was the piece of spinach that appeared to be stuck in Nick Jonas' teeth. Viewers were quick to point out Jonas' leafy mishap following the performance, sharing close up photos that clearly show there is some sort of food stuck between his teeth.
Luckily, instead of rudely calling him out for the unfortunate incident, lots of fans actually appreciated seeing a celebrity appear so relatable. We've all been there, Nick, don't worry.
Bradley Cooper and Lady Gaga are no-shows
It's been a year since Bradley Cooper and Lady Gaga's steamy on-stage performance of Shallow at the 2019 Oscars, and we still can't seem to get over it. This year at the 2020 Grammys, fans were wondering if we were going to finally see a reunion of the A Star Is Born duo.
They were, after all, nominated three more times this year for the 2018 film's soundtrack, which was confusingly released past the 2019 Grammy deadline. Despite winning two of them, the co-stars were nowhere to be seen, which many assume has something to do with the rumors surrounding their undeniable chemistry when they are together.
Jennifer Lawrence trips, and gets standing ovation
Who doesn't love Jennifer Lawrence? Not only is she super talented, but she has so much down-to-earth charm we can hardly take it. The actress isn't exactly known for her grace, and has actually taken tumbles quite a few times in public – making us love her even more for making us feel better for being clumsy.
In 2013, she tripped on her way to receive the Oscar she had won for Best Actress, following her winning performance in Silver Linings Playbook. She had to climb her way up the stairs, and when she finally took the stage – the crowd rose to their legs and gave her a standing ovation. Jen laughed the awkward moment off by totally owning it. "You guys are only standing up because I fell and you feel bad," she jokes. "That was embarrassing."